Vacancies
Our people are the driving force behind our success and the most valuable asset we have.
We are always on the lookout for enthusiastic, passionate individuals who enjoy being part of a team and will relish the opportunity to deliver a high standard of customer service
If you feel that this appeals to you, please send us a copy of your C.V. and we will get back to you should a suitable position arise, our current vacancies are –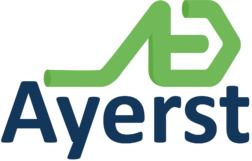 Quality and Compliance Manager
Job Description:
PURPOSE
To ensure that Ayerst meets the requirements of the UKAS and ISO 17020/17025 accreditation standards applied to the technical work accreditation.
Embedding a culture of quality, health and safety and compliant processes throughout the business.
ROLES AND RESPONSIBILITIES
• To be the main point of contact / point of authority, internally and externally, in relation to UKAS and ISO 17020/17025 and be the champion of the standard.
• Oversee the Surveying, Analytical and Laboratory duties.
• Managing own workload and diary – with exceptional attention to detail.
• Address on site quality issues and carry out regular onsite audits in line with the UKAS requirements and Ayerst authorisation chart.
• Conduct unannounced site checks.
• Undertake staff training, in house and on site as required.
• Authorise staff to work unsupervised.
• Conduct Asbestos Awareness training with clients – on site as necessary.
• Point of contact with clients on all quality related issues – on site as necessary.
• Responsible for internal health and safety.
• Responsible for generating Alpha-Tracker reports and management information.
• Directly responsible to the Directors. Preparing management updates, sharing issues and driving innovation with the management team.
QUALIFICATIONS AND EDUCATION REQUIREMENTS
• Must hold a COCA qualification or equivalent asbestos certificate.
• Full driving license.
• Preferred HND standard or above.
BACKGROUND
• Significant experience working in a similar role and with a UKAS accredited consultancy with previous responsibility for a company's quality and H&S environment.
• Experience / knowledge of Surveying, Analytical and Laboratory duties.
• Previous training / coaching experience ideal.
• IT proficient.
• Likely to have 5years plus experience.
PERSON SPECIFICATION
• Excellent verbal and written communicator with high influence and impact.
• Flexible and adaptable in approach.
• Ability to establish cooperative relationships throughout the business and with clients.
• Robust and resilient.
If interested, please apply here
Asbestos Analyst
Minimum requirements for this role:
Must possess the BOHS P403 and P404 asbestos certificates, or RSPH equivalent
Have the relevant experience within the analyst role, undertaking air monitoring and clearance testing in accordance with legislation guidance and company procedures
Hold a full UK Driving licence as the role will be predominantly field based
Should have good Health and Safety practices
Understand and follow current UKAS legislation and practises
Compiling and maintaining accurate reports using tablet and handheld technology
An eye for detail, with a thorough, and diligent approach to inspections and recording, with good and clear communication skills
Developing and maintaining excellent client relationships
A flexible and enthusiastic approach to working is required as the job will involve some night working on a rota system and there is regular overtime available during weekends/evenings
This is a fantastic opportunity to join Ayerst that offers a competitive salary along with many other benefits
If interested, please apply here
Asbestos Surveyor
Minimum requirements for this role:
Must possess the P402 or RSPH equivalent qualifications asbestos certificates and have at least 12 months survey experience on all types of properties
Hold a full UK Driving licence as the role will be predominantly field based
Should have good Health and Safety practices
Understand and follow current UKAS legislation and practises
Compiling and maintaining accurate reports
Developing and maintaining excellent client relationships
A flexible and enthusiastic approach to working is required as the job will involve some night working on a rota system and there is regular overtime available during weekends/evenings
This is a fantastic opportunity to join Ayerst that offers a competitive salary along with many other benefits
If interested, please apply here