Asbestos Training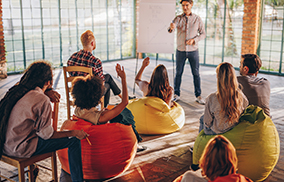 Ayerst Environmental provides Asbestos Awareness Training in accordance with Regulation 10 of the Control of Asbestos Regulations (CAR 2012). We specialise in tailoring courses to meet our customers' business needs. As a training provider, Ayerst has always believed that we can only deliver a first-class service to our clients by ensuring that people are at the heart of everything we do.
Regulation 10 stipulates that employers must ensure all employees who may routinely disturb asbestos in the course of their, otherwise, unrelated work (such as trades) or who may influence how work is carried out, are given adequate information, instruction and awareness training if they are, or are liable to be, exposed to asbestos. We recommend, however, that anyone fulfilling the role of duty-holder should also receive adequate training to ensure that they are meeting the requirements of the CAR 2012. In this regulation, the duty-holder is anyone who has control of or is responsible for the maintenance or repair of non-domestic premises.
In general, training content covers the following four major topics of Regulation 10:
The properties of asbestos and its effects on health;
The types, uses and likely occurrences of asbestos and ACMs in buildings and plant;
The general procedures to be followed to deal with an emergency, for example an uncontrolled release of asbestos dust into the workplace;
How to avoid the risks from asbestos, for example for building work, no employee should carry out work which disturbs the fabric of a building unless the employer has confirmed that ACM's are not present.
We can deliver general and discrete asbestos awareness training, bespoke courses to your exact requirements. The basic course is for half a day, with the option of a half day "bolt-on" for the additional training and information for Managers/Supervisors responsibilities
Please click here to view our Syllabus