Our Story
Ayerst Environmental Ltd, originally Ayerst Analysis, and was founded in the very early 1980's, and became a limited company in September 1985.  The founder was Peter Ayerst, Wing Commander, DFC.  Peter had an illustrious flying career, stretching back to 1938, flying Spitfires and Hurricanes during World War II. His last flight was in the early 1970's in an English Electric Lightning out of RAF Wattisham.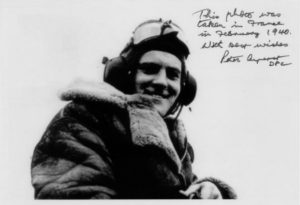 Poster Boy! This image became one of the recruitment posters for the RAF from 1940
Patrolling the skies
'like riding a bike…..'
Peter went on to work in international property, before identifying the growing awareness of the risks posed by asbestos within the built environment.
The company was one of the first firms to have their work accredited by NAMAS (precursors to UKAS), was an early member of what became ARCA, the Asbestos Removal Contractors Association, and was one of the early founding members of ATaC.
The company has remained primarily in family ownership ever since, but with growth over the years, has brought on board additional support and leadership in commercial and financial areas.